Western Australian Academy of Performing Arts
For over 30 years, the Western Australian Academy of Performing Arts at Edith Cowan University has held a reputation as Australia's premiere performing arts academy, producing stars such as Hugh Jackman and Tim Minchin. Each year students collaborate with staff and critically acclaimed guest artists to perform over 300 public performances in Perth and regional WA, interstate and overseas.
[Read More]
A hub for performing arts, the Mount Lawley campus boasts a range of state-of-the-art performance spaces, including Geoff Gibbs Theatre, Roundhouse Theatre, Richard Gill Auditorium, Enright Studio, and the iconic The Edith Spiegeltent – a rare tent-style theatre made of wood, mirrors, canvas and leaded glass.
Across these venues, and in city and regional spaces, the WAAPA calendar is rich with performances in dance, music and musical theatre, and contemporary arts. This cross-genre offering exposes students to a range of crafts and experiences, and is a delight to audiences.
With specialised training, WAAPA is known for the quality of its graduates who pursue successful careers in the performing arts and entertainment industries, including many well-known stars such as Frances O'Connor, Marcus Graham, William McInnes, Lisa McCune, Lucy Durack, Rachelle Durkin, Emma Matthews, Jamie Oehlers and Eddie Perfect.
As a graduate of Music Theatre, Lucy Durack went on to star in the Australian productions of Wicked and Legally Blonde: The Musical, as well as appearing on television in the series Doctor Doctor and Sisters. Another star graduate is the soprano Emma Matthews, now WAAPA's Head of Classical Voice and Opera Studies, who tours the country with From Broadway to La Scala in September 2019.
Aboriginal Theatre Performance
Solo Stage: Here Now
In the spirit of past graduate success stories, WAAPA continues to provide its students with theatrical experience and practical knowledge, as well as academic excellence. Luckily for arts enthusiasts and lovers of performing arts, this fostered creativity is shared with the public throughout the academic year.
Guides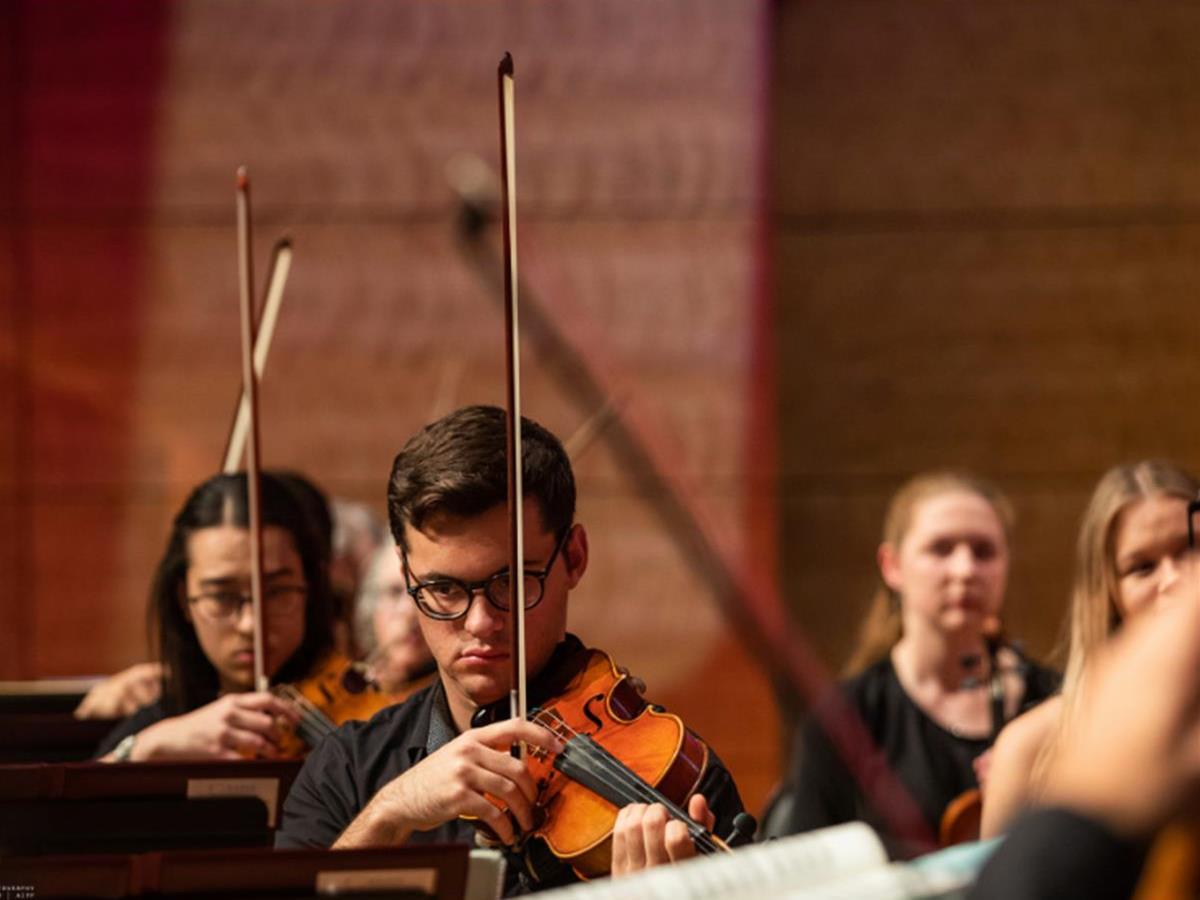 a.maz@ecu.edu.au
(08) 9370 6895
Put on your best fancy dress costume and join WAAPA for Spooktacular!, a sensational evening of fun, frivolity and phenomenal musical virtuosity at the Perth Concert Hall.
Dates:Oct 31
Time(s):7.30pm
Venue:Perth Concert Hall
Details
Hosted By:Western Australian Academy of Performing Arts
Venue Address:5 St George's Terrace
Ticket Price FROM:$20
Ticket price TO:$30
Produced By:WAAPA: WA Academy of Performing Arts
Music:Classical,Orchestral
Type:Youth Art / Performance
Performing Arts:Comedy
Event Venue:Perth Concert Hall
Description
For the first ever, WAAPA at Edith Cowan University is taking its popular annual Halloween concert into the heart of the city – and it's going to be a lot of fun!
The Symphonic Wind Ensemble presents a program of epic proportions, including a world premiere by WAAPA's own Jonathan Jie Hong Yang (of Brave the Wave fame) and the Australian premiere of Victoriano Valencia's Three Colombian Scenes for Alto Saxophone and Band with special guest saxophonist Matt Styles.
For a touch of Halloween madness, there's Eric Whitacre's crowd-favourite showpiece, Godzilla Eats Las Vegas!, which invites the performers to do anything to get a laugh – including wearing hilarious costumes, acting out scenes on stage and using crazy video and lighting.
The concert culminates in Wine Dark Sea, a 2014 symphony for band by American composer John Mackey. Inspired by Homer's epic poem, The Odyssey, this bold and compelling piece combines the full force of the Symphonic Wind Ensemble with percussion, prepared pianos and harps.
"This is the most exciting and ambitious program that SWE has ever put together," says WAAPA's Head of Woodwind and Spooktacular music director, Philip Everall. "We can't wait to get into the Perth Concert Hall – it's going to be a hoot!"
The staff and students of WAAPA are incredibly happy, excited and privileged to be able to perform for a live audience in this fabulous and iconic venue. So grab your fancy dress costume and we'll see you there!
Please be advised this event is being sold with socially distanced seating configurations in accordance with current Government restrictions. Should government restrictions change, further seats will be released for sale.